If you're looking for the ultimate air conditioning solution for a large commercial building or home, they don't come better than VRF systems.
Also known as VRV air conditioners, these split systems only require a single outdoor unit that connects to as many indoor units as you need, without the need for bulky and rigid ducts. installation.
Individual zone controls give you total flexibility in setting your desired temperatures in multiple areas. Inverter technology makes VRF systems some of the most energy-efficient air conditioners on the market, helping to keep your energy costs as low as possible while enjoying comfortable temperatures all year round.
Maxim Air designs, supplies, installs and services VRV & VRF air conditioning in Hills District, North Shore and all Sydney metropolitan areas. Get in touch to arrange your obligation-free consultation with our highly experienced engineers today.
---
What's the difference between VRV and VRF air conditioning?
The terms VRV and VRF both refer to the same HVAC technology. The difference is that VRV (variable refrigerant volume) was the original technology and is a registered trademark of Daikin Industries. All other manufacturers use the term VRF (variable refrigerant flow).

What is a VRV system?
Daikin VRV air conditioning was first launched in 1982 and is still produced today. It was the first HVAC system to use variable refrigerant flow controls, offering more precise control over temperatures than standard cooling systems.
Daikin VRV systems are especially popular in medium to large commercial buildings or other large properties that require a flexible and efficient cooling solution.

What is a VRF system?
All variable refrigerant systems not produced by Daikin are known as VRF air conditioners, which is the vast majority of systems. These work on the same principles as VRV, but there's a much wider range of options to choose from across different brands and models.
VRF systems use refrigerant for cooling rather than water, with DC inverters controlling motor speeds and refrigerant flow to minimise power consumption. Many systems are designed to be expandable, allowing more units to be added over time in a growing business or project.

How do they work?
VRV and VRF are multi split systems with multiple indoor units connected to a single outdoor unit incorporating one or more compressors. These units are connected by refrigerant piping and communication wiring in a closed loop.
Each indoor unit can be independently controlled, either using a wired control panel or remotely. When a user activates an indoor unit and sets their desired temperature, the system responds by checking the indoor and outdoor conditions. It then delivers the precise amount of refrigerant needed to reach the optimal indoor temperature.
The system constantly monitors and responds to changing ambient temperatures to keep power consumption at a minimum and maintain consistent temperatures. Many VRF systems can provide both cooling and heating.

What are the benefits of VRF air conditioning?
VRF systems are some of the most advanced air conditioners available. They offer distinct advantages over most other systems for larger buildings or projects.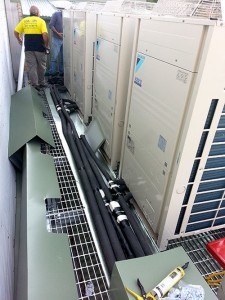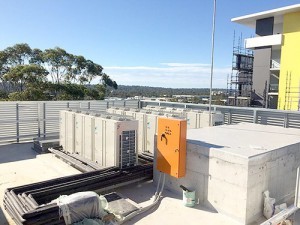 What types of VRF systems are there?
There are several types of VRF air conditioners to choose from, depending on your needs. These are:
Get a free VRF installation quote in Sydney
Talk to our sales engineers at Maxim Air to find out more about VRV and VRF air conditioning and get your obligation-free quote. We install and repair all types of air conditioners in all Sydney metropolitan areas.
It was a pleasant experience from go to whoa.

Arran listened to all our requirements and concerns and came up with a suggested system that fitted our needs.

His team arrived punctually on the day and installed it within the day,

No problems or hassles, even cleaned up all the dust, packaging, and took the old system and rubbish with them.

The new system was commissioned and working better than we had hoped for.

Many thanks to Arran and his team for a job well done.

Ray Gosling

Raymond Gosling

25/07/2019

The team was professional and did a good job installing the system. Arran and the whole team were pleasant to deal with. The system has been in about 6 weeks now and works well. Price was reasonable. I would recommend rhem.

Ross S

15/07/2019

Great experience from the start! Stephen went above and beyond for us, giving excellent and honest advice. He gave us extremely competitive quotes and his team was professional on the day of installation. You will not regret using Maxim Air Conditioning! Will definitely use them again in the future.

Adrian J

08/07/2019

Efficient, flexible and reasonably priced. Outstanding service, will be returning customers. Thank you Arran and team.

Miranda Huxtable

27/05/2019

The guys from Maxim were really great. Our installation was a bit complicated and Arran spent a lot of time with us scoping the job to make sure everything was covered. He then presented us with options to make sure we got the best solution possible. On the day, the team of Stephen, Victor, Matt, Sam and Hamid did a really professional job. They were careful, the standard of work was excellent and they did a great job cleaning up afterwards. I would happily recommend Maxim to anyone looking for a quality air conditioning team.

Paul Buckingham

12/05/2019

Great experience from start to finish. Arran was very professional over the phone and very informative about the products available and the whole installation process. He also made a follow up call to check on the installation and service provided. The 2 installation guys were also very friendly and professional and did a great job with the our Mitsubishi reverse split system install and even fixed some ducting on our existing ducted system. Best service we've had so far from any company during our renovations. Thanks guys!

Deni Di Filippo

27/04/2019

MaXim Air Conditioning completed a complex installation of a ducted system to our home. The team were professional, reliable and maintained great communication with us throughout the process. We are very satisfied with the end result.

Louise Duff

10/04/2019

Just had a ducted system and a single unit installed by Maxim. The "whole journey" was an exceptional experience! - very approachable, competitive and reasonable pricing, accommodating to installation date, friendly staff including the owners, who are down to earth people.

No need to look elsewhere!

Chan Michael

12/03/2019

Amazing company. Well organised, great prices, even accept credit card payment. Could not recommend enough!

Nasrin Azizi

01/03/2019

I would highly recommend MaXim Air to anyone looking for ducted system. We spent a lot of time and effort shopping around, when we could have gone to the best and most competitive to start with. very professional . A joy to deal with from the initial consult to the installation.

aida Nedel

28/02/2019
Click here for a free quote on VRV & VRF Systems