Cleaning cooling towers is one of the most important parts of air conditioner maintenance, but it's often overlooked. Depending on where you live in Australia, you may be required by law to have your cooling tower serviced every one to six months.
This involves testing the water for the presence of Legionella bacteria and other harmful organisms, cleaning and chemical treatment, and maintenance of the electrical and mechanical components. Maintaining your cooling tower also improves energy efficiency and lowers your electricity bills.
Make sure your air conditioning's ready for the summer by scheduling cooling tower maintenance ahead of time with Maxim Air. We'll service your whole system so you can look forward to uninterrupted cooling when you need it most.

---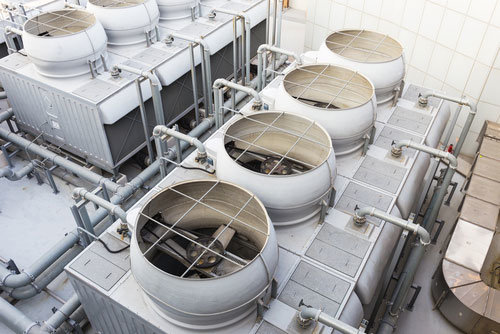 What are cooling towers?
If your air conditioning uses a cooling tower, this will usually be hidden out of sight on the roof or in other outdoor locations. This can make it easy to forget about when you're checking other components, but cooling tower cleaning is just as important for maintaining the efficiency of the system and preventing health risks.
Cooling towers store water that gets heated up by the condenser of water cooled package units, as it extracts heat from the building. In an open system, most of this heat is transferred to the air through evaporation. In a closed system, the water is cooled and recirculated.
This water needs to be chemically treated and the tower needs to be cleaned on a regular basis.

How often should they be cleaned?
Cooling tower laws in Australia vary across different states and territories. In Sydney and New South Wales, cooling towers must be registered with your local council and the operator is responsible for regular maintenance.
Your cooling tower needs to be cleaned and chemically disinfected at least every six months or more frequently. Without maintenance, algae, bacteria and mould can accumulate. This encourages the growth of harmful bacterial organisms such as Legionella, which is responsible for the spread of Legionnaire's Disease.
Cooling towers can still harbour bacteria even when your air conditioning's not in use, so you should always have the system checked before the summer heat arrives.

What does cooling tower maintenance involve?
Our qualified technicians will thoroughly clean and disinfect your cooling tower at regular intervals to prevent corrosion and bacteria growth and keep it operating efficiently.
Cooling tower maintenance can also be included as part of your complete air conditioning service.
What does cooling tower cleaning cost?
Like other air conditioning services, cooling tower maintenance will save you money by lowering your electricity bills and extending the life of the system so you won't need to replace it so soon. You'll also be complying with state and territory laws for cooling tower treatment and avoid penalties.
Our technicians will give you a quote for cooling tower services based on the size of the system, its location and how much work needs to be done to bring it up to standard.
Get your free quote
Contact Maxim Air to get a no-obligation quote for cooling tower cleaning in all Sydney metropolitan areas.
Friendly service and honest advice. Fixed the a/c unit with a simpler fix (which may or may not last) rather than going straight to the expensive fix

James Wakeham

11/09/2018

Aaron delivered on his promise to do the job on time (our tight time-line) and on budget (best quote received). Technicians Matt and Vic were very punctual, very polite, tidy, efficient and helpful. Maxim is highly recommended.

smiley r

21/08/2018

We had one of the best experience in the trade industry dealing with Maxim air-conditioning quality of the service was unbelievable the idea from the director of the company regards to designing the grills are fabulous they did they best to provide the high-quality and the clean job with the lowest price for us.

We do highly recommend people to use these kind of service as much as we satisfied and happy we wish the same to other customer send

nick alaveyan

16/08/2018

Stephen provided a good air-con service to my new home. He gave professional advice with a reasonable price.

Bellevue Hill

Mabel Cheng

25/07/2018

Fantastic service! Stephen was very helpful and professional right from the start. My house had a very small roof space which made the job very challanging, but he took it onboard and made things work. The boys were very friendly and professional. Would highly recommend MaXim Air to my family and friends. Thank you

Uzma Raza

28/06/2018

Stephen and the team at Maxim Air did a great job. They were very professional from the beginning.

Stephen sent a technician for the inspection within a very short time period.

After a thorough inspection, all the options were explained to us in detail and clearly answered all our queries, and guided us through the process.

The technician on site was very polite and friendly.

A high quality job was delivered on time for a very reasonable price. We are very happy with the results and would highly recommend Maxim Air.

Chanaka Fernando

13/06/2018

Our air condition is 20 years old and never worked to full potential it was always very weak and not much heating or cooling. Rang Stephen he came had a look and advised to change all the ducts and put new zones. Very happy we went with his advise we ended up with perfect heating and cooling so he really saved us from buying a new unit. The guys who came to do the job were all very efficient and polite, I would not refrain from recommending them to anyone they were all very good and very reasonable price

Marlene Nassif

13/06/2018

The boys at Maxim Air Conditioning were very professional and respectful. My new ducted airconditioning has been great. The best thing I found about the whole installation was how quiet and kind the staff were to my family and home environment. Cleaned up everything at the end and took away all packaging. Would recommend this company to anyone!

Nicholas Scott

13/06/2018

Fantastic service. And great quality. Nothing is ever too difficult which is why they have done multiple jobs for our company and will continue to do so

Charlie Khoury

04/06/2018

Professional, friendly and reliable. You can't go wrong with these guys. From beginning to end, I could not fault. Thanks for such a positive experience and result!

Carl

08/04/2018
Click here to book your cooling tower clean and treatments